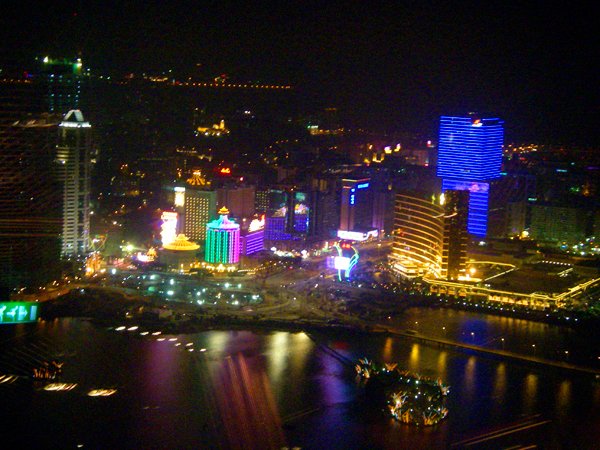 Not my pic, but that's a cell-snap of the old side
One of our stops was Asia's Mini Vegas that is Macau. I say "mini" because it's not quite like Vegas and honestly not really what I expected it to be. Macau as a whole is fairly new, and essentially is in the premature stages of growth and popularity. Unlike Vegas, Macau isn't the balls-to-the-wall insane, crazy, busy, sin-ridden, slot-machine-throwing, gambling pit town I thought it'd be...yet. Doesn't mean I didn't have a good time, but it just totally caught me off guard.
First off, Macau is pretty much split up into two parts, the old side and the new side. The new side is obviously in the initial stages of development and the old side houses the classic casinos and hotels and as well, is also in development with new casinos and ocean front property. Vegas has "the strip". Macau does not. Imagine wanting to go casino hopping from the Sands to the Venetian. The Sands was built on the old side and the Venetian was established in the newer part of Macau called the Cotai Strip. The thing is, the new and old are separated by the ocean and is connected via suspension bridge that crosses the body of water. It takes a HK$50 cab ride to get across.
Basically, "walking the strip" is not an option in this version of Las Vegas if you wanted to see all of what Macau has to offer without hitching a ride.
I'll give you a little run down on what Macau is like, in short, simple points:
- Macau's new side, The Cotai Strip, is under MAJOR development, which means, not very many casinos, which in turn, means that side isn't busy. For the most part, once it hits 11pm, the streets are almost deserted and hardly busy during the day and evening.
- Macau's new side hosts the Venetian (where we stayed), Galaxy (under construction), Hard Rock, City of Dreams, The Plaza, The Hyatt, and The Four Seasons. The rest are merely concrete structures fortified with bamboo chutes that will be casinos after a few years or so.
- Almost all casinos on the Cotai Strip are interconnected in clusters that are connected so with giant shopping malls on the floors above the casino floor and also doubles as ground floors to all the rooms. Kind of like the Forum Shops at Ceasars but is ten times better considering the mall has over 300 stores and tons of restaurants.
- There are essentially MAYBE 3 or 4 strip clubs in the entire city. That I know of. And that concierge at our hotel know of. Either they don't anything or the gentlemen's club scene is really THAT weak. But seriously all close before midnight. 'The fuck is that?!
- Hookers in Macau are rampant. Oh. My. God. I hadn't seen shit like that even in Vegas. At least in Vegas, you can't tell where they are, who they are or what they even look like as a whole until it catches you off guard. But this was too obvious - packs of 5 or more loitering outside of a casino smoking cigarettes asking random passersby if they want a "massage" in broken English. Hilarious sight to see. And they also take over little sections of the casino floor as well.
- Nightclubs are okay at best. Apparently the best club in Macau is D2. Which was dead at 11pm. It picks up at 2am-3am and is probably the only club (or establishment for that matter) open until 6am. D2 was like Cherry Lounge in Calgary but with Filipino FOBs, wide arrangement of locals, and fat white guys picking up hookers outside after getting wasted at the bar.
- The entire city shuts down at midnight basically. The casinos as well are pretty much dead at this time. And even when it IS busy, half the tables are closed. I've never seen Macau packed both inside and out at anytime.
- The malls are awesome. The Canal Shoppes in the Venetian are open to the public hosting over 300 stores. Malls are also up and running in other parts of the new side, like inside the Hard Rock/City of Dreams/The Crown trio that connects the hotels together.
- The old side, again is also in stages of development. But tourists are free to enjoy the gambling pleasures with casinos like The Wynn, The Sands, Red Dragon Casino, MGM Grand, and Lisboa. There are probably a few more, but none of which that I could see that were pretty big.
All in all, it was a good trip. But my experience in Las Vegas as a legal man took a bit away from Macau and what I thought it would be turned out to be something different. Everyone says Macau is the Asian Vegas. Which may be true to a certain extent, but I personally would consider it to be Vega's little bother with a curfew. Although, it wasn't as great as I thought it was, the city as "New Vegas" has potential. Maybe I'll pay a visit in 5 years and see what type of growth and prosperity it experiences and hopefully that promotes more visits, population density, lifted closing times and busier streets. For now, catch me at the Saffire, Palms or Ceasars blowing cash. Hahaha.
A few snaps of our hotel
The Piaza, Four Seasons, The Venetian (far right)
The Inside
One.